Reporting a Hate Crime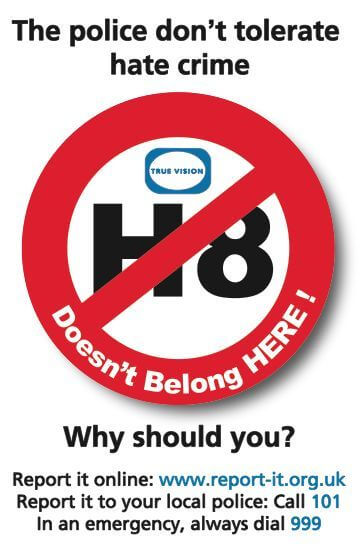 The online reporting facility has been developed so that you can report hate crimes online, if you do not want to report directly to the police. The police take hate crime very seriously and will record and investigate this offence even if you do not want to give your details. However, you must note that the investigation and ability to prosecute the offender(s) is severely limited if the police cannot contact you.
You may also specify how you want to be contacted and if contacting you would cause you any difficulties. The police will not pass on your details without your consent and would ask you to consider giving your details confidentially.
To report a hate crime - please select the county/area where the crime happened from the drop down list below and you will be taken to the correct reporting form. You can use the postcode search at www.police.uk to check the name of your local area.
When not to use this form
Your online report will be forwarded immediately to the relevant police force for investigation but it may not receive attention for several hours. For this reason you should never report online an incident where:
The offender is still present
You or anyone else is seriously hurt or in danger
You think the offender may return
In the above circumstances, we would urge you to call 999 and the police will respond immediately.
What Happens When I Report a Crime?
This document has been prepared by our partners who are charaties that support victms. It has lots of information to let victims know about the support available and what happens after a crime is reported.
Downloads
You may need to download Adobe Reader to view files in PDF format.
You may need to download Microsoft viewer software to view Word, Excel or Powerpoint files.